Little Roy Press
Three Photos available
Bio
Little Roy was born Earl Lowe in Whitfield Town, Kingston in 1953, the youngest of nine children. At age 12 his singing impressed Coxsone Dodd at Studio 1 enough to release his debut 45 Cool It in 1965. Later he would record for Prince Buster and then Lloyd Matador Daley – for whom the sixteen year old talent sang Bongo Nyah, the first openly Rasta song to top the Jamaican chart in 1969. In the early 70s Lowe then started his Tafari label with friends Munchie and Maurice Jackson – where he released the much covered hits Prophecy and Tribal War, as well as lesser known collectors items such as Jah Can Count On I with his harmony group (with Ewan Gardner and Anthony "Rocky" Ellis) Little Ian Rock. A Rasta since his teens, he joined and, at the end of the decade, departed from the 12 Tribes Of Israel organization, leaving Jamaica for the USA and ultimately settling in London. In 2010 Tribal War was revived once again by Nas and Damian Marley for their 'Distant Relatives' opus, demonstrating that Roy's songwriting truly stands the test of time. Angus Taylor spoke with the diminutive yet defiantly proud elder statesman of roots reggae at his home about his, at times troubled, career, his impressive new album Heat, and an unusual next project he has in the works…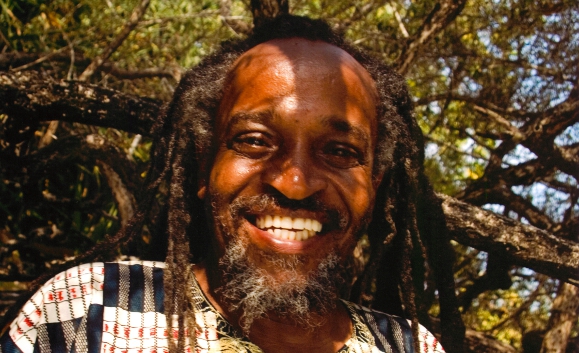 You entered the business young. Were you too young?
I wouldn't say I entered it too young because there were youths my age who wanted to enter it at the same time. It could have been any of us but it seems it was just me that got the break. It wasn't something I was thinking about. I never said I wanted to be an artist. It happened gradually. It was just me following two friends from school to the studio. I was 12. Jackie Mittoo asked me to sing a song and he selected me to record.
Some people have said Jackie Mittoo was the real producer at Studio 1.
Yes, he was really the producer because when a lot of the songs were made Coxsone wasn't in the studio and to call yourself a producer you have to be there telling the musicians what you want to hear and actually producing. I would say Coxsone was the executive producer and not the producer. I did later works with Jackie from 1987-89 when I was in America for an album called Live On with Ernest Ranglin, Tyrone Downie and Family Man. Great musicians. All I can say about Jackie Mittoo was he was just a genius. A musical genius and so is Ernest Ranglin. They are all geniuses. The way Jackie would formulate melodies on the keyboards. The notes Familyman would play. The things Ernest Ranglin would play seemed impossible.

All I can say about Jackie Mittoo was he was just a genius

Tell me about how you became Rasta in your teens.
I was a youth from a Christian home and most nights my mother would let me read the bible to her and all those kinds of things. I had to go to church twice on Sundays and at least once on week days. The family used to go to a church called The Church Of The Open Bible on Washington Boulevard close to Pembroke Hall. My mother and all the kids were members. My father I don't remember going to church even one day in his life but he was just a hard worker. Religion was embedded in us and being the youngest I got the most of it. So at the age 13 going on 14 I started hanging out with some Rastas after school and playing football in Washington Gardens. These were Rastas who moved from Trenchtown to live in Washington Gardens, especially one called Orville Dwyer, and as youths we used to sit down, read the bible and smoke some herbs.
What was your thought process?
My Rasta came to me through reasoning about things to come. If you're a conscious youth within yourself and you start checking history you start seeing that the Christianity I was a part of wasn't really for us because there was no reality in it.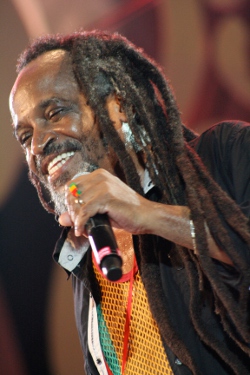 I learned that when black people starting holding on to Christianity the missionaries came with the bible in one hand and destruction in the other. So we had to look somewhere else. We were some youths who, if we hadn't gathered the consciousness within our selves, maybe we'd still be holding on to it.
How did you join the 12 Tribes organization?
This happened at the age of 16 after I sang a song called Bongo Nyah. Some schoolmates of mine were members – not of the 12 Tribes of Israel but of the Ethiopian Federation, Charter 15. It was said that this organization got a charter received from Emperor Haile Selassie I for black people who wanted to return to Ethiopia whose family had fought in the war against Mussolini. It wasn't really just a Rasta thing. It was a black thing so they could return home and start a new life. But after a time, I couldn't say what really happened, but I heard you had to pay dues to the society and they were saying someone from the Ethiopian World Federation in America had run away with the money. So Carrington, or Gad, decided to form something of their own and formed the 12 Tribes Of Israel. But even now in this time I still can't see the reality of the 12 Tribes Of Israel because it was from the time of Jacob and we, those people that came from Africa, had nothing to do with those people who were on that side of the world. Abraham and those people were from the desert and our fore-parents were from the West coast of Africa – that's where they were taken from. We weren't from the Middle East so I would say it didn't fit me.

I still can't see the reality of the 12 Tribes Of Israel because it was from the time of Jacob and we had nothing to do with those people

Do you regret joining the 12 Tribes?
Yes, I regret because even now they still have a thing against me. They even went on the pulpit and said no must support anything for Little Roy. I was a member of the music body of 12 Tribes Of Israel – the 12 Tribes band. The first rehearsal was at my home where me and Euan Gardner from Little Ian Rock – we went to St Andrew Technical High School and played cup football together. We did a lot of shows all over Jamaica for the 12 Tribes Of Israel and we were not even given a cup of tea or a day dinner. When I really came to see and hear the folly that was brewing I said, "Well then, bwoy, it's best I just leave it then". I had four children to take care of and I had a label before the 12 Tribes Of Israel from when I left school called Tafari. We produced songs like Prophecy and Tribal War. Those two great songs were for my label. I sacrificed everything because I had to stop pressing my songs and recording for my label to do the work which they would then say is 12 Tribe work. "You mustn't be doing nothing else".
Your 12 Tribes brethren Freddie McGregor has covered some of your songs like Prophecy and Jah Can Count On I.
When I left the 12 Tribes Of Israel they said "Well, Little Roy is gone but his songs are still here" so he started singing my songs to the world like they are his. He has never sung one of my songs on stage and said "This is Little Roy's song." He sang Jah Can Count On I, Long Time Rocksteady and Prophecy was the song that made him big. Even today a lot of people still think that is Freddie McGregor's song.
You already mentioned Bongo Nyah which was the first overtly Rasta tune to top the Jamaican charts in 1969. On your new album Heat you sing about how much more acceptable it is for people to be – or at least look like – Rasta.
But it's not accepted because Rasta is never accepted by society. A lot of Rastas might feel like they are accepted but they are not. They might ease up the pressure on us a little but that's all. If we were accepted our music would be more out there getting played on the BBC just like other white groups. We are still being downpressed.
You sang with the Hippie Boys who became the Wailers and Little Ian Rock performed with Bob Marley. Tell about your experiences with Bob Marley and the group.
Yes, when I singing for Lloyd Matador Daley, those were the musicians who used to back up my songs – Familyman and Carlie were his regular musicians. And yes, we performed on a show called No Woman No Cry at the National Arena next to the stadium in the early 70s. There's not much to say – Bob Marley loved us as a group and we were put on that show because he talked a lot about us. Bob Marley called me "Music" so when he sang, "Hey Mr Music" I'm sure it was me he was talking to. It's written in a book that he said Dennis Brown is a good singer but the two artists he rates were Little Roy and Toots. It's written history.

Bob Marley called me "Music" so when he sang, "Hey Mr Music" I'm sure it was me he was talking to

Tell me about your experiences with Lee Perry and how you created Tribal War – one of most versioned songs of all time.
We recorded that song at Lee Perry's studio and the musicians were Dennis Brown on bass, Leroy "Horsemouth" Wallace on drums, Paul "Pablove Black" Dixon on keyboards, and Roy Hamilton on guitar. That song was made with just four musicians and it was a hit song from the day it was written. It wasn't a song that took a day or a week or a month. It took a long time to complete. The punchline was there – "Tribal War, we no want no more of that" but to complete it I was thinking a lot. The completion in writing of that song finally came on that day when I read in the newspaper that there was peace between rival gangs. They smoked some herbs in the chalice to mark the peace. Lee Perry was the engineer and the one who took my voice on Prophecy also. He was another genius in the music business, as an engineer. I was kind of close to Lee Perry growing up because we didn't live far from each other – his house was across the street. He was a good man. I was close to him and his wife at the time, Pauline. Some evenings I would leave school and go to his record shop on Charles Street, wait until he closed the shop and go home with them.
Tribal War was used by Nas and Junior Gong for their album Distant Relatives. Surely that's an example of Rasta music being successful in the mainstream? Have you received correct royalties for that song this time around?
But who did it? Damian is a Marley. A Marley will get accepted in the mainstream but a lot of artists don't. The father was accepted and it just followed the children. Once you're in you're in and once you're out you're out. I hope to [receive royalties] because it was only last year that they did it and all these things take time to come together.
Why did you leave Jamaica, move to the USA and finally settle in London?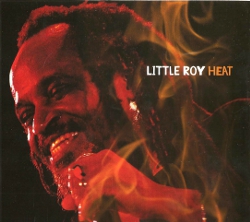 I'm glad I left Jamaica because the people there they "badmind your things". That is what I was receiving from Jamaica. It was so plain to see that artists like John Holt, George Nooks, producers like Joe Gibbs, JoJo, Byron Lee and all these people re-recording my songs and not giving me any credit for them.To me that means, if they are taking my songs maybe next they'll want to take my life so I had to go away while I had the strength to. I don't regret leaving Jamaica. My time in America was great because I survived it through the storm and the calm. Sometimes it was good, sometimes it was bad. But I survived it as a survivor. Europe is more of a pathway for roots music. Roots music doesn't work in America but roots music can work in England over into Europe. I have family living here since 1956. When I was three years old my first sister came to England. Another sister came in '57, my brother came in '59, and then another sister in 1960. It was nine of us my mother and father had and I'm the youngest so when I came here it wasn't just me alone.

A Marley will get accepted in the mainstream but a lot of artists don't. Once you're in you're in and once you're out you're out

Why have you recorded so many of your songs again for your new album, Heat?
That decision was made because I looked into some of the songs and said, either it wasn't grooving right, the musicians weren't right, or the studio sound. Some were good, even though I re-recorded them, but they still could be better. That is why I chose some of those songs – because I knew I could make them better. I recorded the song My Religion for 12 Tribes and because I left the organization I didn't even get a copy of the release. So I recorded it again for me so I could listen to the recording and get a copy for myself because I know it is a good song.
Finally, tell me about your next project – a Nirvana covers album? What's your favourite Nirvana song?
That's coming on great. I think that is something that maybe can move me into the mainstream! (laughs) I have to keep my fingers crossed, but it's a lovely album, and seeing as the message is different from the things I write it might happen. I love the song called Polly.